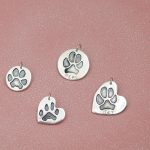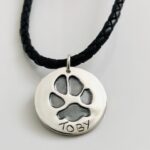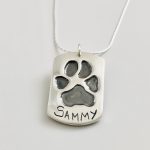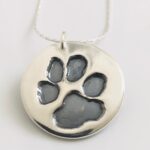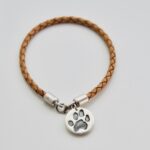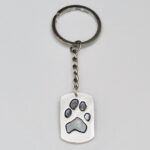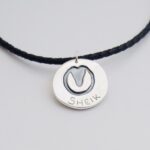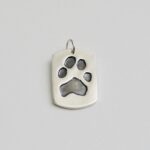 Memorial Paw Print Jewellery (Your Beloved Pets Own Pawprint)
From $185.00
Ring Office to organise your special momento.
Handcrafted pure silver memorial pieces – we take your loved pet's prints and miniaturise them , then imprint that paw, nose, claw, hoof (even feathers) into the pure silver charm or pendant with the pet's name engraved.
These prices are for pendants only with sterling silver jump ring  – there are three shapes available and three sizes to choose.
Circle-  small, medium and large
Heart-  medium and large
Dog tag-  large
                                                                     PRICES
Small                                   $185 (Approx size of a 5c piece).
Medium                               $195 ( Appox size of a 10c piece).
Large                                   $210  (Approx  size of a 20c piece).
Pet names can be inscribed on the front or back. (small circle, only on the back)
Additional:
50cm sterling silver necklace                                $50
50cm black bolo necklace                                      $40
65 cm black bolo necklace                                     $45
Sterling silver link bracelet                                    $50
Bolo bracelets                        Single$ 30  Double $35  (colours Black, dark brown, tan and aqua)
Keychain                                                                     $15
PRICES INCL GST   – Postage is included in the price